We found TWO fudge recipes on the Veronica Foods blog, so we're combining them in to one big post on fudge!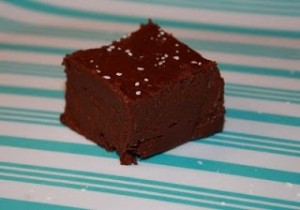 Recipe 1: Decadent Chocolate & Espresso Balsamic Fudge
Ingredients
1 1/4 cups Heavy Cream
1/2 cup Espresso Dark Balsamic Vinegar
1 pound (about 2 cups) semi-sweet chocolate chips
3 Tbs. unsalted butter cut in to small pieces
1/4 tsp. sea salt
1/2 tsp. vanilla extract
Directions
Butter a 9×13″ baking pan and line with parchment that overhangs the sides.
In a metal bowl or double boiler, add all of the ingredients except the salt.
Set over a pot of gently simmering water, stirring constantly until the chocolate has completely melted. The mixture will be very thick.
Pour in to the prepared pan. Allow to cool to room temperature and cut in to squares.
Sprinkle a few grains of sea salt on each square.
Makes about 3 pounds of fudge.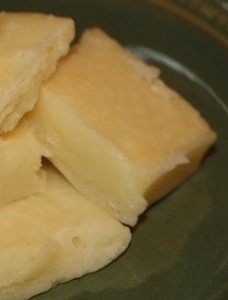 White Chocolate & Persian Lime Olive Oil Fudge
Ingredients
1/4 cup Persian Lime Infused Olive Oil
1/4 cup unsalted butter
3/4 cup Sour Cream
2 cups miniature marshmallows
1/2 lb white chocolate morsels
3 tablespoons fresh lime juice
finely grated zest of two limes, about 1 tablespoon
1 cup granulated sugar
Directions
Grease an 8″ x 8″ square baking pan.
Combine sugar, lime zest, Persian Lime Infused Olive Oil, lime juice, butter and sour cream in a 2 quart saucepan over medium heat for 5 minutes or until sugar is dissolved and mixture boils, stirring constantly.
Continue boiling over medium heat or until a candy thermometer reaches 238 degrees.
Remove from heat, stir marshmallows and white chocolate until melted and mixture is smooth.
Immediately pour fudge into greased pan and let stand about 10 minutes until top is firm to touch.
Using a knife, score top of fudge to make fudge squares.
Refrigerate about 1 hour. When cool and firm, cut out fudge.
Re-posted from the Veronica Foods blog.